Diversified Services. Uncompromising Quality
Metalic System
Metallic coating system creates a stunning look that can resemble a marbled three dimensional surface. A metallic pigment powder is added to a clear coating resin binder to obtain a variety of decorative looks. Numerous effects can be created with different application techniques. The colors can be intermixed to create unlimited color variations.
Common Use Sites
These metalic epoxy systems can be used in a variety of applications.
Metalic epoxy flooring is a decorative poured-in-place flooring system which combines with metallic effects pigments to produce inspiring one-of-a-kind looks.
These floors can beautify many spaces.
Garage Floors
Man Caves
Retail areas
Concourses
Showrooms
Convention Centers
Entertainment Venues
Residential
Bars & Lounges
Office Lobbies
Restaurant Floors
Boutiques
Halls / Corridors
---
System Build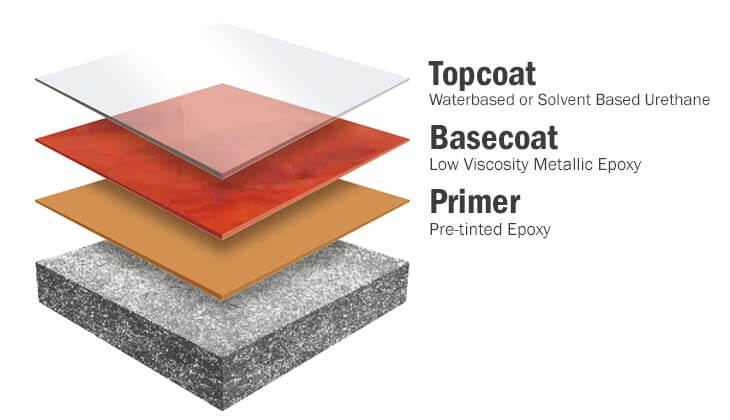 SOLID METALIC SYSTEM
Profile/Appearance: Resembles marbled 3 dimensional surface.
System is created by adding a metallic pigmented powder to clear epoxy resins. These systems are considered more of an artistic creation, multiple designs can be constructed depending on application technique and colors used. Colors can be intermixed, allowing unlimited color variations.
Benefits of using Oldstone Metalic Systems
Creates a unique one of a kind look

Easy to Clean/maintain

Colors can be intermixed; allowing unlimited color variations

Creates a brilliant three-dimensional effect

Light Reflectivity
We provide free consultation for most locations on Long Island
Begin With On-Site Estimate for Your Metalic System
COLOR SELECTION
Here are 12 available Metallic Epoxy Colors and they can be custom blended to create a floor that complements the ambiance of your design and style. When choosing color, consider the natural elements surrounding your environment and you can use our FLOOR DESIGN VISUALIZER to help you picture your finished floor design.
NOTE ON POLYMER COATINGS & METALLIC PIGMENT COLOR CHARTS: Colors are shown as close as possible. Due to screen and print limitations, you should consult an NPI associate for physical samples for the most accurate representation. Colors may vary from batch to batch and product to product.
For more details on this product spesification, please examine our brochure.
Explore More Our Services