Diversified Services. Uncompromising Quality
Acid Stain Concrete Floors
Create amazing rich finishes with Acid Stain. Made from an acid solution, wetting agents, and metallic ions, Acid Stain penetrates and reacts with concrete and cement to produce interesting, mottled colors that stand the test of time. Ideal for both interior and exterior projects, Acid Stain is the most dynamic, durable and UV resistant of the concrete stain systems.
Common Use Sites
Brewery
Driveway
Showroom
Patio
Retail Store
Residental
---
System Build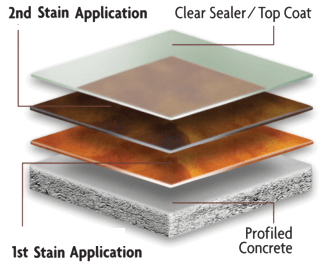 ACID CONCRETE STAIN
ACID CONCRETE STAIN is an acid base, reactive stain. This interior/exterior reactive stain is zero VOC, UV resistant and will not chip, fade or peel. Reactive Acid Stain is formulated to chemically bond with the concrete to create permanent, unique colors that simulate the look of natural stone and marble. Stain colors are concentrated and can be diluted with water to create variations in color intensity. Available in 10 colors.
The Acid Stain Grind & Seal System is designed to create a mottled effect on existing concrete floors with high to low gloss sealer options. The Acid Stain Grind and Seal System is a process of grinding the concrete, applying acid-based stain and sealer. When it is placed on concrete it chemically combines the metallic ions with particles in the concrete to form oxides. The stain is then sealed for protection.
We provide free consultation for most locations on Long Island
Begin With On-Site Estimate for Your Acid Stain Concrete Floors
STAIN COLOR SELECTION
NOTE: Colors shown are approximate representations only. Actual results will vary.
For more details on this product spesification, please examine our brochure.
Explore More Our Services