Diversified Services. Uncompromising Quality
Quartz Broadcast System
With extreme durability and chemical resistance, quartz floors are built for tough environments. Whether it's an outdoor pool deck or a high-traffic area in a busy medical facility, some spaces simply cannot settle for low-quality flooring. OldstoneQuartz Flooring System is a high build, double broadcast system using a decorative colored quartz aggregate and sealed with a protective top coat. This extremely durable and aesthetic floor consists of colored quartz being imbedded and fused between product layers providing an appealing look and increased slip and abrasion resistance, making this floor one of the most commonly installed systems.
Common Use Sites
Follows ADA, USDA, FDA, NFSI, and OSHA Guidelines
Hospitals
Locker Rooms
Cleanrooms
Retail
Laboratories
Schools
Pharmaceutical
Supermarkets
Lobbies
Indoor / Outdoor
Cafeterias
Restrooms
Dining Areas
Garage Floor
Pool Deck
---
System Build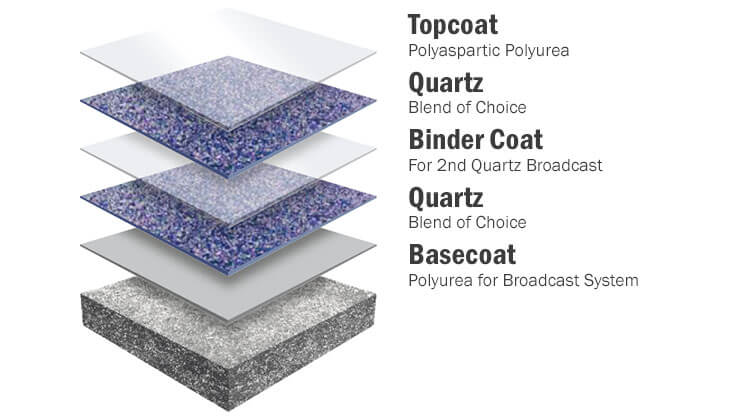 DECORATIVE QUARTZ SYSTEM
Profile/Appearance: approximately 1/8", decorative textured surface Quartz Systems are used for decorative purposes in light and medium duty traffic areas. A colored quartz aggregate is broadcasted into a clear high solids epoxy binder to create an attractive, slip resistant floor finish that is suitable for most commercial and industrial applications. Quartz systems can be built as single or double broadcast systems.
Benefits of using Oldstone Quartz Flooring System
Easy to clean/maintain

Excellent Durability

Specially blended colored sands create a variety of decorative looks

Aesthetic improvements & decorative floor finish
Increase slip resistance in wet areas
Hard with excellent abrasion resistance
Excellent stain & chemical resistance
Anti-microbial, seamless & hygienic
We provide free consultation for most locations on Long Island
Begin With On-Site Estimate for Your Quartz Broadcast System
QUARTZ COLOR SELECTION
Quartz Color Granules are available in over 40 color and they can be custom blended to create a floor that complements the ambiance of your design and style. When choosing color, consider the natural elements surrounding your environment and you can use our FLOOR DESIGN VISUALIZER to help you picture your finished floor design.
For more details on this product spesification, please examine our brochure.
Explore More Our Services