Diversified Services. Uncompromising Quality
Solid Color Epoxy System
These systems are used for environments requiring an attractive, high performance floor, or when a concrete floor has sustained damage requiring a moderately thick resurfacer. This system is typically applied at 18 to 36 mils, providing the necessary coverage to hide track marks, spalls and other concrete imperfections.
Common Use Sites
These solid color high build systems can be used in a variety of applications.
Provides the necessary coverage to hide track marks, spalls, and other concrete imperfections, giving the floor a solid profile. These systems are designed for industrial floor applications where the floor is subject to moderate traffic and chemical exposure. Creates an attractive, extremely durable floor.
Warehouses
Garage Floors
Aeronautical Hangars
Mechanical Rooms
Industrial Areas
Pharmaceutical
Commercial Areas
Pulp & Paper Industry
Institutional Areas
Storage Rooms
Animal Care Areas
Residential Areas
---
System Build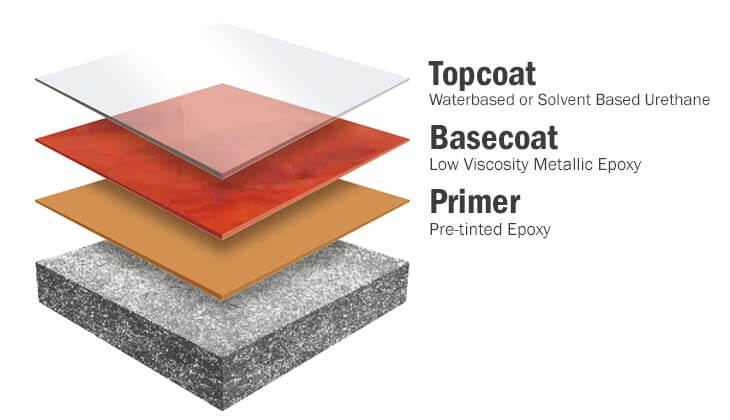 SOLID COLOR EPOXY SYSTEM
Profile/Appearance: 18-36 mils, solid color.
Benefits of using Oldstone Solid Color System
High compressive strength and impact resistance

Easy to clean/maintain

Excellent wear characteristics

Suitable in many chemical resistant environments

Light Reflectivity

Good color stability
We provide free consultation for most locations on Long Island
Begin With On-Site Estimate for Your Solid Color Epoxy System
COLOR SELECTION
Here are 18 standard Solid Epoxy Colors and they can be custom blended to create a floor that complements the ambiance of your design and style. When choosing color, consider the natural elements surrounding your environment and you can use our FLOOR DESIGN VISUALIZER to help you picture your finished floor design.
Clear, White, and Black also available. Special & Safety Colors are available upon request.
For more details on this product spesification, please examine our brochure.
Explore More Our Services