Diversified Services. Uncompromising Quality
Veterinary-Kannel Flooring
Animal and veterinary clinic flooring may vary by type of facilities and the procedures accommodated by that facility and yet, they all demand one thing in common; is to have a high performance floors for their facility. Having a flooring system, that is impermeable and resistant to harsh cleaners, animal waste, odor absorption and safe easy to clean nonskid surface as important as the colors and textures of those floors.
With seamless flooring system facility owners will have greater ability to customize their floors with choice of colors and textures.
Whether it is a veterinary clinic or boarding and training facilities, a clean and attractive floor will always create a warm welcoming atmosphere especially for the adaption facilities to encourage pet adoption and to provide a sense of comfort to those having to surrender a pet.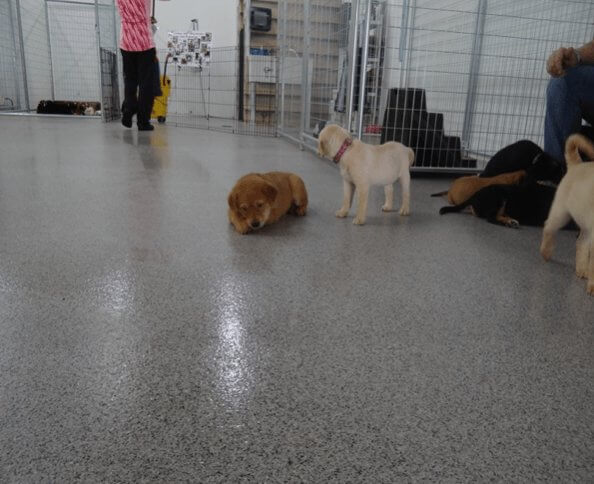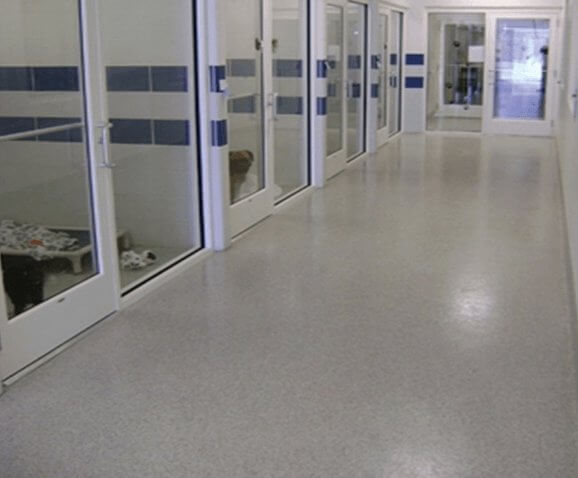 If you're considering opening a new veterinary clinic or updating you're your existing facility flooring, and don't know where to start or how to compare with one system to another flooring system! call us today. At Old Stone Restoration & Installation Corp., we have been installing and as well as restoring many types of flooring systems on Long Island since 1990. And we'll be glade work with you to help you compare and select a right seamless flooring system to suit your needs.
Benefits of using Flakes Flooring System
Follows ADA, USDA, FDA, OSHA, CFIA, and NSF Guidelines
Easy to clean & maintain
Excellent Durability
Specially blended colored sands and chips create a variety of decorative looks
Aesthetic improvements & decorative floor finish
Increase slip resistance in wet areas
Excellent abrasion resistance
Excellent stain & chemical resistance
Anti-microbial, seamless & hygienic
We provide free consultation for most locations on Long Island
Begin With On-Site Estimate for Your Veterinary-Kannel Flooring
Explore More Our Services